Creativity in Industry Prize 2015 Winner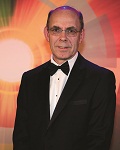 Dr Christopher Barnard
Johnson Matthey Technology Centre
Awarded for high impact research in the field of platinum group metal chemistry for catalytic and medicinal applications in industry
About the Winner
Christopher won this award for his high impact research in the field of platinum group metal chemistry for industrial applications and discovery and scale up of platinum based anti-cancer drugs. Carboplatins are now used in the UK for the treatment of ovarian cancer.
Christopher obtained his first degree from University of York and a D.Phil in organometallic chemistry. In 1978, he joined Johnson Matthey Technology Centre where he worked for over 36 years. While organometallic chemistry and homogeneous catalysis, particularly carbonylation and cross-coupling chemistry, have been a significant part of his work throughout that time, his main contribution to Johnson Matthey's business has been in the field of coordination chemistry with application to platinum anti-cancer drugs.
Johnson Matthey, formed in 1817 and it is best known for its activities in the marketing and applications of platinum group metals. The largest of its divisions provides a wide range of emission control catalysts.
Related Links

Dr Barnard's webpage
Johnson Matthey
External links will open in a new browser window