Dalton Young Researchers Award Winner 2011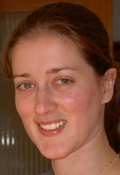 Elizabeth New
University of California, Berkeley
Awarded in recognition of her research in bioinorganic chemistry, and in particular the development of new probes for molecular imaging in living systems.

About the Winner
Elizabeth New was born in Sydney, Australia in 1984. After twice representing Australia at the International Chemistry Olympiad, she began her undergraduate studies in Advanced Science at the University of Sydney. Elizabeth completed her Honours year in chemistry in 2005 with Professor Trevor Hambley, with whom she continued to work towards her Masters degree (2006), utilising fluorescent tags to study the cellular uptake and metabolism of platinum antitumour complexes.
In 2006, Elizabeth began her PhD studies at Durham University under the supervision of Professor David Parker. Her research focused on understanding the cellular behaviour of luminescent lanthanide complexes, which can be used to probe the environment of the cell. Throughout her PhD, Liz was a Durham Doctoral Fellow, and her studies were funded by a Commonwealth Scholarship from the Association of Commonwealth Universities.
Following her PhD, Elizabeth was awarded a Postdoctoral Fellowship by the Royal Commission for the Exhibition of 1851, and with this support she has been working in the group of Professor Chris Chang at the University of California (Berkeley) since January 2010.
Her current work is focused on understanding the roles of copper in biology. To this end, she has synthesised a class of fluorescent sensors for copper, and applied these tools to study copper function and regulation in various biological models.
In January 2012, Elizabeth will return to the University of Sydney to begin her independent research career with a Lectureship in Inorganic Chemistry. She plans to develop metal-based complexes for the sensing of biological redox state.

Related Links

The Chang Group
University of California (Berkeley) - Department of Chemistry
External links will open in a new browser window