Dalton Young Researchers Award 2014 Winner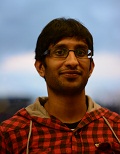 Dr Kogularamanan Suntharalingam
Massachusetts Institute of Technology
For his contributions to the design and development of new metallo-pharmaceuticals and to the understanding of their complex mechanisms of action.
About the Winner
Kogularamanan "Rama" Suntharalingam was born in 1986 and is of Tamil origin. He grew up in East Ham, east London and later in Ilford, Essex. Rama obtained a first-class MSci degree in Chemistry from Imperial College London (UK) in 2008. During his undergraduate studies he was awarded a number of prizes, including the HVA Briscoe Prize for Inorganic Chemistry and the GlaxoSmithkline Beecham Pharmaceuticals Prize in Practical Inorganic Chemistry. Rama's first taste of research came in Prof. Mike Hill's laboratory, where as an UROP student, he investigated Group 2 molecular catalysis. This experience proved inspiring, and encouraged Rama to undertake further research.
Rama was awarded his PhD in Chemistry from Imperial College London (UK) in 2012. His PhD research, carried out under the mentorship of Prof. Ramon Vilar, explored the interaction of metal complexes with quadruplex DNA. During his PhD studies, Rama published several high-impact papers in top-flight journals, and presented his findings at national and international conferences including the "Daltons Transaction Younger Researchers Symposium" in 2011. Rama has also co-authored three book chapters (one as a single author).
Upon completion of his PhD, Rama joined Prof. Stephen J. Lippard's research group at Massachusetts Institute of Technology (MA, USA). He was awarded the Misrock Postdoctoral Fellowship by the Koch Institute of Integrative Cancer Research, MIT in 2012. During his time at MIT, Rama has made some outstanding contributions to the field of anti-cancer drug design and development. His work on the anticancer properties of osmium(VI)-nitrido and square-planar platinum(II) complexes received great praise from the bioinorganic community. His current research combines facets of inorganic chemistry, nanotechnology, and molecular biology.
Related Links

Dr Suntharalingam's Webpage
Researchgate

Dr Suntharalingam's Webpage
Massachusetts Institute of Technology
External links will open in a new browser window