Distinguished Service Award 2011 Winner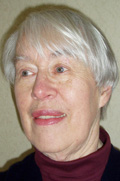 Dr Janet Warren (Retired)
Formally Glasgow Infirmary
Awarded for her exemplary and dedicated service to RSC Analytical Division, both within the UK and Scotland. Especially noteworthy is her record of more than 30-years continuous service to the Scottish Region.

About the Winner
After graduating from University of Glasgow with a BSc in Pure Science, Janet took up a one-year post funded by the Medical Research Council to assess Fallout Strontium-90 in Children in the West of Scotland where high rainfall was expected to cause raised exposure from Nuclear Weapons testing at that time.
That first year led to a further 13, three of which were spent at Hines V A Hospital near Chicago to learn more about mineral metabolism. During this time Janet gained a MSc and then PhD, both at Glasgow. However, following nuclear test ban treaties of the 1960's, the MRC funding ceased in 1972 and Janet moved into more general Clinical Chemistry, with a specialist interest in analysis of Trace Elements, particularly toxic elements, before retiring from Glasgow's Royal Infirmary in 2002.
Having become a member of the Royal Society of Chemistry in 1976 Janet joined the Glasgow and West of Scotland Committee to represent chemists working in Health Service departments. After one term Janet moved to the Analytical Division's Scottish Region Committee and quickly became involved in helping organise the many meetings and Conferences held in Scotland at that time. Notably these were SAC '83, under the enthusiastic chairmanship of the late John Ottaway, and Euroanalysis VIII, equally enthusiastically chaired by Duncan Thorburn Burns. Serving as an AD Council member for two terms and as AD Vice President led to a variety of most interesting experiences including the Analytical Abstracts Editorial Committee.
Over the years, spare time activities have included Girl Guiding and more recently the International Federation of University Women which campaigns for women's education worldwide.