2018 Anne Bennett Memorial Award for Distinguished Service Winner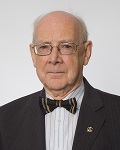 Professor Duncan Thorburn Burns
The Queen's University of Belfast
Awarded in recognition of prolonged and dedicated service to the Analytical Division through Council, regions and representation on a variety of additional committees.
About the Winner
Professor Duncan Thorburn Burns' undergraduate and post-graduate studies were at the University of Leeds. Since then, he has held academic posts at Medway College of Technology, Woolwich Polytechnic, and Loughborough University, and from 1975, at The Queen's University of Belfast. He holds several RSC Medals and Awards in Analytical Chemistry and numerous others from overseas Universities and professional bodies. He is an Honorary Member of the Pharmaceutical Society (N.I.) and of the Association of Public Analysts, and was elected in 1984 to two National Academies of Excellence, namely The Royal Irish Academy and The Royal Society of Edinburgh.
To date, has published over 450 peer reviewed papers, with 120 since formal retirement in 1999, covering a wide range technique, of sample types and application areas including forensic and food science and 10 books. He has considerable and up to date experience as an expert witness in both civil and criminal cases, in Courts in Belfast, Dublin, Edinburgh and London. Following retirement has remained academically and research active as an Honorary Research Professor, with international collaborators, and is currently in the Institute for Global Food Security and in the Government Chemist's support research programme.
He has contributed to his profession by service to the local and regional structures and as President of the Analytical Division and a Council member of the Royal Society of Chemistry and via work in the International Union of Pure and Applied Chemistry and in the European Association for Chemical and Molecular Sciences.