Chemistry World Entrepreneur of the Year Award 2012 Winner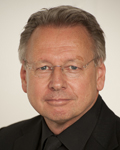 Professor Paul Workman
The Institute of Cancer Research
For his work as a scientific pioneer and serial entrepreneur whose numerous commercialized discoveries and academic research led to his founding two successful chemical companies: Piramed Pharma and Chroma Therapeutics.
About the Winner
Professor Paul Workman is a world leader in the discovery of molecularly targeted cancer drugs, a passionate advocate of personalized cancer medicine and a serial scientific entrepreneur.
A chemical biologist and molecular pharmacologist, Paul has been responsible for a large number of new cancer drugs, including HSP90 and PI3 kinase inhibitors now in Phase II clinical trials. His Cancer Research UK Cancer Therapeutics Unit at The Institute of Cancer Research (ICR) has discovered sixteen preclinical development candidates over the last six years with six agents progressing into Phase I clinical trial and abiraterone approved by the FDA and EMEA. Paul originated the concept of the Pharmacological Audit Trail as a framework for clinical cancer drug development.
Paul is currently Deputy Chief Executive of the ICR and Director of the ICR's Cancer Research UK Cancer Therapeutics Unit in Sutton, UK, which is the largest non-profit cancer drug discovery group worldwide. He is also Head of ICR's Division of Cancer Therapeutics and Harrap Professor of Pharmacology and Therapeutics.
Paul obtained his BSc (Hons) in Biochemistry from Leicester University (1973) and his PhD in Cancer Pharmacology from Leeds University (1977). He was a postdoctoral fellow and scientific staff member of the MRC Clinical Oncology Unit, MRC Centre, Cambridge University (1976-1990); UICC Visiting Fellow at Stanford University and SRI International, California (1989); Cancer Research Campaign Professor and Director of Laboratory Research in the Department of Medical Oncology, Beatson Laboratories, Glasgow University (1990-1993); and Head of the Cancer Research Bioscience Section at AstraZeneca Pharmaceuticals, Alderley Park (1993-1997).

Honours and awards include: Cancer Research UK Life Fellow (1991); Fellow of the Academy of Medical Sciences (2002); Fellow of the Royal Society of Chemistry (2010); Royal Society of Chemistry George and Christine Sosnovsky Award for Cancer Therapy (2010); and American Association for Cancer Research Team Science Award (Team Leader, 2012).
Paul has been a Scientific Founder of two successful biotechnology companies: Chroma Therapeutics and Piramed Pharma, the latter subsequently acquired by Roche. He has also been responsible for the commercialization of many cancer drugs through a succession of other industry partnerships.
Paul has published over 470 scientific papers and regularly gives keynote and other invited lectures on cancer drug discovery and development.
Related Links

Professor Workman's webpage
Institute of Cancer Research
External links will open in a new browser window