Chemistry World Entrepreneur of the Year Award 2015 Winner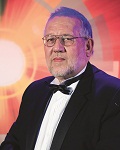 Dr Ray Fisher
Peakdale Molecular
Awarded for innovation and entrepreneurship in UK fine chemicals and contract research for over 30 years
About the Winner
Ray has been an innovative and entrepreneurial force in UK fine chemicals and contract research for over 30 years, founding three companies, creating hundreds of new jobs and developing the sector to its current prominence.
Ray completed his PhD in organofluorine chemistry at UMIST in 1977 and joined Maybridge Chemicals as a bench chemist. His initial entrepreneurial foray was a partnership starting Key Organics, followed by Peakdale Molecular. Both organisations continue to flourish and have provided career opportunities for several hundred chemists. Recently he sold Peakdale Molecular and span out NeuDrive Ltd. He believes this new company will be a trail blazer in Materials Science where it has developed a printable high performance organic ultrathin film transistor technology platform.
Peakdale Molecular provides chemistry services to blue chip pharma and Biotechs from its two sites near Manchester and Sandwich. More recently Peakdale collaborated with the Centre for Process Innovation in the area of printable electronics and this successful partnership in organic semiconductors led to the formation of NeuDrive Ltd.