Higher Education Teaching Award 2011 Winner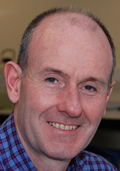 David McGarvey
Keele University
Awarded in recognition of the significant contribution he has made to chemistry education at third level for over a decade, particularly his implementation and evaluation of innovative and carefully-designed teaching and assessment methods.

About the Winner
David McGarvey completed the GRSC at Paisley College of Technology (now University of the West of Scotland) in 1985 and went on to complete a PhD (1988) at the same institution under the supervision of Professor T. George Truscott involving the use of laser flash photolysis techniques to characterise the photochemistry and photophysics of photosensitisers for photodynamic therapy.
Following postdoctoral positions at the University of Oxford (1988-1990) and Loughborough University (1990-1993), he took up his post as Lecturer in Physical Chemistry at Keele University in 1993 and was promoted to Senior Lecturer in 1999. At Oxford he worked with Professor Mike Pilling and Professor Gus Hancock using flash photolysis techniques to investigate the gas-phase kinetics of reactions of interest in combustion chemistry before moving to Loughborough to work with Professor Frank Wilkinson on elucidating mechanisms of oxygen quenching of the excited states of organic molecules in solution. At Keele, David continued a mixture of basic and applied research in the general area of photophysics and photochemistry with a particular emphasis on the application of flash photolysis techniques to elucidate aspects of the free radical chemistry of carotenoids in the context of their reputed antioxidant properties within biological systems.
Whilst David's passion for teaching is long-standing, his development as a teacher of chemistry in Higher Education has been heavily influenced and supported by the HEA Physical Sciences Centre team and his close involvement with the strong and inclusive community of practitioners it cultivates.
He has been particularly active in the design and assessment of laboratory practicals and practical classes, developing a variety of undergraduate experiments and approaches that combine real-world contexts and activities with the development of employability skills. He has disseminated much of this work through talks at Universities throughout the UK and Ireland, at HEA events and through a number of publications. More recently he has developed a strong interest in the use of technology to enhance teaching and learning with a particular focus on the use of digital audio for feedback on assessments and the use of screencasting for feedback and teaching.

Related Links

Keele University
David McGarvey homepage
External links will open in a new browser window