Harrison-Meldola Memorial Prize 2010 Winner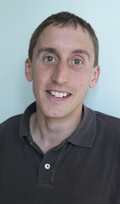 Nathan S Lawrence
Schlumberger Cambridge Research
Awarded for research originality and innovation in the field of applied analytical electrochemistry

About the Winner
Nathan is currently a Senior Research Scientist at Schlumberger Cambridge Research in the UK. In this role he is applying his expertise in Analytical Electrochemistry to the development of 'real world' chemical sensors which will be capable of working in the extreme temperature and pressure environments found in oil and gas reservoirs.
Prior to joining Schlumberger he undertook a Post Doctoral role with Prof. Joe Wang at New Mexico State University and in 2003 he completed his DPhil. at the Physical and Theoretical Chemistry Laboratory, Oxford University under the supervision of Prof. Richard Compton.
During his career Nathan has authored 109 research papers, co-authored a Chemistry textbook, a book chapter and ten patents. Most notably the creation of a spin-out company from Oxford University in pH sensing (Senova Systems, Inc., USA) stemmed directly from part of his doctoral work.
During his time in Oxford he was awarded two University prizes and was the recipient of the RSC Ronald Belcher Lectureship in 2001. To date Nathan's publications have gained over 2000 citations.