Harrison-Meldola Memorial Prize 2012 Winner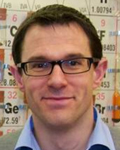 Dr Michael Ingleson
University of Manchester
For his innovative work in borocation chemistry, particularly the borylation of arenes.
About the Winner

Michael Ingleson was born and bred in Newport, South Wales. He moved across the border to the University of Bath where he was awarded both his MChem degree (in 2001) and his PhD, the latter under the supervision of Prof. Andrew S. Weller working on cationic transition metal superelectrophiles partnered with highly alkylated monocarborane anions.

Postdoctoral positions followed, initially in the United States with Prof. Kenneth G. Caulton (Indiana University) using low coordinate electron rich 3d metal complexes ligated with pincer ligands for small molecule activation. He returned to the UK to work with Prof. Matthew J. Rosseinsky FRS (University of Liverpool) on the post synthetic functionalisation of Metal Organic Frameworks (MOFs) and borohydride containing MOFs.

Michael commenced his independent academic career at The University of Manchester in 2008 with the award of a Royal Society University Research Fellowship. Current research in the Ingleson Group is targeting new synthetic methodologies utilising inexpensive precious metal free catalysts and /or reagents, specific topics include (i) borocation chemistry and (ii) Fe based organometallic complexes. His work on electrophilic borocation chemistry was recognised in 2011 with the award of the Young International Boron Chemist at the IMEBoron XIV conference.
Related Links

The Ingleson Group
Dr Ingleson's Research Group Webpage
External links will open in a new browser window