Harrison-Meldola Memorial Prize 2013 Winner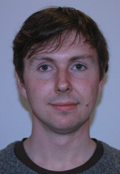 Dr John Bower
University of Bristol


For his development of a wide range of novel transition metal catalysed processes of fundamental utility in organic synthesis.
About the Winner
John Bower obtained his MSci degree in Chemistry in 2003 from the University of Bristol. He then remained at Bristol to study for his PhD degree (2007) under the guidance of Professor Timothy Gallagher. During this time his research focused on the development of cyclic sulfamidate based N-heterocyclic methodologies and their application to natural product synthesis.
His first postdoctoral appointment (2007-2008) was with Professor Michael Krische at the University of Texas at Austin where he investigated transfer hydrogenative strategies for carbonyl addition. He then undertook a second postdoctoral appointment with Professor Timothy Donohoe at the University of Oxford where he focussed on the use of olefin cross metathesis for heteroaryl synthesis.
In 2010, he was awarded a Royal Society University Research Fellowship and commenced his independent career at the University of Bristol. His group's research interests lie broadly within the area of asymmetric catalysis, with an emphasis on the development of green processes (atom economy, step economy and selectivity).
Current studies are directed towards:
the development of new methodology for heterocyclic chemistry
the application of these processes to natural product synthesis and
the evaluation of natural product analogues for medicinal purposes.
The understanding of reaction mechanism to increase the efficiency, scope and applicability of new transformations is also of paramount interest.
Related Links

Dr Bower's Webpage
University of Bristol
External links will open in a new browser window