Hickinbottom Award 2012 Winner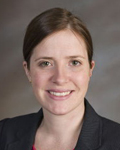 Dr Rachel O'Reilly
University of Warwick
For ground-breaking work in the synthesis of new macromolecular architectures and in the development of novel functionalization reactions and organic transformations for materials chemistry.
About the Winner
Dr Rachel O'Reilly is an EPSRC career acceleration fellow in the Chemistry Department at the University of Warwick.

She graduated from the University of Cambridge in 1999 and went on to complete her PhD at Imperial College, London in 2003 with Professor Vernon C. Gibson. She then moved to the US to under the joint direction of Professors Craig J. Hawker and Karen L. Wooley at IBM Almaden and Washington University in Saint Louis.

In 2004 she was awarded a research fellowship from the Royal Commission for the Exhibition for 1851 and in 2005 she returned to the UK and took up a Royal Society Dorothy Hodgkin Fellowship at the University of Cambridge.

In 2007 she was awarded the RSC Harrison-Meldola medal and in 2008 the Macro group UK Young Researcher medal.

In 2009 she moved to her current position at the University of Warwick and later that year was appointed as an associate professor. She currently leads a research team of 19 and this year was promoted to a full professorship.

Her research focuses on bridging the interface between creative synthetic, polymer and catalysis chemistry, to allow for the development of materials that are of significant importance in medical, materials and nanoscience applications.
Related Links

Rachel O'Reilly Group
Dr O'Reilly's Research Group Webpage
External links will open in a new browser window