Hickinbottom Award 2016 Winner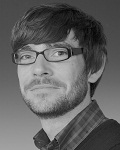 Dr Stephen Thomas
University of Edinburgh
Awarded for his highly selective iron-catalyzed hydrofunctionalization of alkenes, particularly hydrocarboxylation, and the development of a suite of easily handled iron catalysts
About the Winner
Stephen Thomas obtained his MChem (2003) at Cardiff University working with Professor Nick Tomkinson on the development of metal-free oxygenation reactions. He then moved to Churchill College, University of Cambridge, to complete a PhD (2007) with Dr Stuart Warren which explored the synthesis and use of phosphorous leaving groups in diastereoselective cyclopropanation reactions.
Postdoctoral work with Professor Dr Andreas Pfaltz at the University of Basel, Switzerland, on iridium-catalysed enantioselective alkene hydrogenation reactions. This was followed by an appointment to a fixed-term Lectureship at the University of Bristol in support of Professor Varinder Aggarwal FRS.
In 2012 Stephen was awarded a Chancellor's Research Fellowship at The University of Edinburgh, and moved with his research group to take up this position. In 2014 he was awarded a Royal Society University Research Fellowship. The Thomas Group are focused on the discovery and understanding of sustainable catalytic methods, particularly those using earth abundant, non-toxic and environmentally benign metals. Underpinning this is a keen interest in organometallic mechanism and the development of operationally simple methods.
Current research areas include:
(i) Iron, manganese and aluminium-catalysed hydrofunctionalisation reactions.
(ii) General methods for first-row transition metal (pre-)catalyst activation.
(iii) The construction of C-C bonds using frustrated Lewis pair catalysis.

Related Links

Dr Thomas' Webpage
University of Edinburgh
External links will open in a new browser window