2018 Industrial Analytical Science Award Winner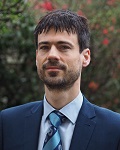 Dr Paul Brewer
National Physical Laboratory
Awarded for excellence in the development of highly accurate and traceable analytical methods for the measurement of water vapour transmission rate.
About Paul
Paul is the Science Leader of the National Physical Laboratory's Gas and Particle Metrology Group. His research provides traceability for global atmospheric monitoring (in particular, greenhouse gases and volatile organic compounds), air quality, advanced manufacturing, emissions monitoring and decarbonisation and sustainability of the energy supply. Paul's research group provides the Central Calibration Laboratory for nitrogen monoxide and non-methane hydrocarbons to the WMO Global Atmosphere Watch Programme and supports the UK Greenhouse Gas Network. Paul is a member of ISO/TC28 (Liquid Fuels), ISO/TC61 (Plastics), ISO/TC158 (Gas Analysis) and the Organic Electronics Association.
He received a First Class Masters' degree in Chemistry from the University of Southampton and a PhD in Organic Electronics from Imperial College London. He has over 14 years' experience in gas metrology and is vice chair of the Consultative Committee for Amount of Substance Gas Analysis Working Group, which oversees the comparability of gas analysis measurements between National Metrology Institutes worldwide. He has published over 50 peer-reviewed papers. He won the CITAC Best Paper in Metrology in Chemistry Award twice (2012 and 2016) for publications on silver/silver chloride reference electrodes for accurate pH measurement and zero gas reference materials for improving knowledge of trends in pollutant concentrations towards better air quality. Paul received a prize for his research on characterising the performance of barrier layer materials for plastic electronics at the 2013 International Gas Analysis Symposium.
Related Links

Dr Brewer's Webpage
National Physical Laboratory
External links will open in a new browser window