Inspiration and Industry Award 2012 Winner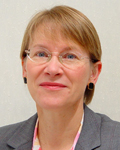 Lorelly Wilson
Chemistry with Cabbage
For her long standing, inspirational and acclaimed lectures, and education on chemistry as both a subject and a career delivered in conjunction with industry support.
About the Winner
Lorelly's company "Chemistry with Cabbage" runs workshops and demonstration lectures in schools, festivals and conferences, designed to make students feel that chemistry is for them. A consortium of companies through the Chemical Business Association and others have been brought into the project, allowing her to reach large numbers of students, particularly those in areas of social deprivation. Her team works with around 200 schools and more than 6,000 students every year encouraging students and teachers into chemistry. Schools and Ofsted inspections report that these schools improve their results and increase interest in studying chemistry.
The key feature of her demonstrations and workshops is to encourage students to do their own experiments, showing them dramatic science in ordinary chemicals and everyday life.
This work has been recognised by the Universities of Manchester and Chester and the British Science Association, all of which have awarded her honorary fellowships.
Lorelly encourages other industrial scientists to work with schools and is particularly proud of those she has mentored into chemistry teaching.
A particular strength is the way she brings together so many different organisations. Lorelly chairs the NW Science Alliance, working with museums, universities and businesses to maximise the strengths of each.
Related Links

Chemistry with Cabbage
Fizz, Foam and Flubber!
External links will open in a new browser window