Inspiration and Industry Award 2014 Winner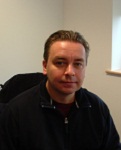 Professor Peter Dowding

Infineum UK Limited
For his contribution to enthusing university students about research and colloid science.
About the Winner
Peter Dowding graduated from the University of East Anglia in 1995 with a BSc and PhD in chemistry. Peter then worked as an Industrial Chemist at Synthomer, developing emulsion polymers before moving to Bristol University in 1995, where he worked as a post-doc for Prof. Brian Vincent. He moved to Infineum in 2001, where he works as Principal Scientist in the areas of Surfactants and Colloids. He acts as leader for background and fundamental studies of colloidal additives for future generations of additives used in lubricants.
In particular he has research interests in surfactant design/ self-assembly, computational modelling of structure/ performance relationships for such self-assembled systems and characterisation techniques, in particular application of x-ray and neutron scattering to industrial systems. He has acted as industrial supervisor to 13 past/ present PhD students and 11 Post-Doctoral Researchers. He runs a sandwich placement scheme at Infineum, taking ~10 undergraduate students per year.
Peter is an Honorary Professor in the School of Process, Environmental and Materials Engineering at Leeds University. Peter was awarded the RSC/ SCI McBain Medal for Colloid and Interface Science in 2009 and is a Fellow of the Royal Society of Chemistry.
Related Links

Professor Dowding's Webpage
Infineum UK Limited
External links will open in a new browser window