2019 Inspiration & Industry Award Winner
Pfizer Science in a Box Team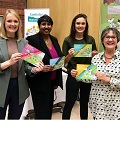 Pfizer UK
Awarded for the development of interactive schools programmes inspiring children to study science, reaching over 22,000 pupils in the UK.
About the team
The pharmaceutical industry offers such a wide variety of career options and you meet such amazing people including scientists who help to discover and develop the next generation of medicines and vaccines. Bringing medicines to market takes a long time, requires a diversity inexpertise and people and costs a huge amount of money. Sharing that story with young people enables them to appreciate the complexity of the industry journey and visualise the fascinating roles available for them in the future. Our programme Science in a Box: Molecule to Medicine' gives young people the opportunity to go through each of the steps in an educational and motivational way, designed to inspire them to continue studying science. The success of this programme is testament to the team of volunteers across 5 sites in Pfizer who developed and then delivered the programme at 116 events including 75 individual schools reaching 23,000 students - a huge achievement for a programme in its inaugural year. We are immensely proud of the team's work.
The Pfizer in a Box team have chosen to donate their prize money to an educational charity.
Related Links

Science in a Box Webpage
Pfizer UK
External links will open in a new browser window