Interdisciplinary Prize 2010 Winner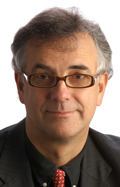 Barry Potter
University of Bath
For his innovative application of techniques in synthetic organic chemistry to challenges in biology and medicine. His broad ranging studies have addressed both fundamental and applied challenges.

About the Winner
Barry Potter gained a 1st in Chemistry at Oxford in 1977 winning the Part II Thesis prize. He completed his DPhil under Gordon Lowe FRS as Graduate Scholar and later Junior Research Fellow, on the stereochemistry of enzyme-catalysed phosphoryl transfer using oxygen chiral phosphates. After postdocs at Oxford and the Max Planck Institute for Experimental Medicine in Goettingen, Germany, as Royal Society European Exchange Fellow, he became Lecturer in Biological Chemistry at Leicester and subsequently won a Lister Institute Fellowship. In 1990 he moved to Bath as Lister Institute Research Professor and since 1995 holds the Established Chair of Medicinal Chemistry in the Department of Pharmacy & Pharmacology, as Head of Medicinal & Biological Chemistry.
His research is at the interfaces of Chemistry with Biology and Medicine, in particular enzyme mechanisms, cellular signalling, nucleic acid chemistry and drug design & discovery. A particular interest is the chemical biology of signal transduction, exploring the pharmacology of second messengers mobilising intracellular calcium and he has developed numerous structurally-modified ligands that have found worldwide use as pharmacological tools. In Medicinal Chemistry he has pioneered a novel pharmacophore in drug design and has brought his drug candidates to 15 Phase I & II human clinical trials to date in cancer and in women's health. He currently has drugs in clinical trials against breast, prostate and endometrial cancers and also in endometriosis.
He is co-founder of the spin out company Sterix, that was acquired by major pharma, has published over 450 research articles with ca 200 granted patents, was an RAE2001, RAE2008 & REF2009 panel member and is currently on the Molecules, Genes & Cells Funding Panel of the Wellcome Trust. He has numerous editorial board memberships and editorships, including the Journal of Medicinal Chemistry, Molecular Cancer Therapeutics and BJChemBio. He received a DSc from Oxford in 1993 and is currently Visiting Professor of Medicinal Chemistry at Oxford. He was elected to the Academy of Medical Sciences in 2008 and Academia Europaea in 2009 and since 2007 has won four Royal Society of Chemistry medals and in 2009 the GlaxoSmithKline International Achievement Award

Related Links

University of Bath
Barry Potter's page
External links will open in a new browser window