2018 Interdisciplinary Prize Winner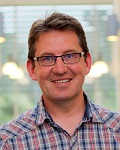 Professor Barrie Wilkinson
John Innes Centre
Awarded for combining molecular biology, enzymology and chemistry in the engineering of biosynthetic pathways to microbial metabolites.
About the Winner
Barrie Wilkinson obtained his BSc in Chemistry (1990) from the University of Leeds, where he stayed to complete his PhD research (1993) with Dr Richard B. Herbert studying the synthetic potential of Streptomyces enzymes. He then moved to the University of Washington USA as a postdoc with Professor Heinz G. Floss working on the utility of chiral methyl groups to study enzymatic processes, in particular the mechanism of methane monooxygenases (1994-1995). This was followed by a second postdoc in the labs of Professors Jim Staunton FRS and Peter F. Leadlay FRS at the University of Cambridge UK where he studied aspects of polyketide biosynthesis (1995-1996); it was during this period that he became fascinated by the potential of biosynthetic engineering to modify the structure of microbial metabolites. At the start of 1997 he joined the Bioprocess Research Unit at GlaxoWellcome's Medicines Research Centre in Stevenage UK, spending a sabbatical year learning molecular genetics back in the Leadlay lab. At the start of 2001 he joined Biotica Technology Ltd. as Director of Chemistry, and was promoted to Vice President for Research in 2009.
Since 2013 he has been a Project Leader in the Department of Molecular Microbiology at the John Innes Centre, Norwich UK, where his group work on the discovery of new microbial natural products, the study of their biosynthesis, and in understanding how biosynthetic pathways evolve. They are developing new tools and methods to aid natural products discovery and rational bioengineering. To do this the Wilkinson group exploit a wide range of disciplines including natural products and synthetic chemistry, enzymology, genomics and microbial molecular genetics. Barrie is a co-founder of Isomerase Therapeutics Ltd., Cambridge UK (2013).
Related Links

Professor Wilkinson's Webpage
John Innes Centre
External links will open in a new browser window