2019 Interdisciplinary Prize Winner
Professor Mark Bradley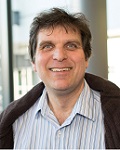 University of Edinburgh
Awarded for highly influential and pioneering work in the area of optical medical imaging.
About the Winner
Mark received his doctorate from the University of Oxford in 1989 under the supervision of Professor Sir Jack Baldwin, followed by post-doctoral studies at Harvard Medical School and returned to the UK as a Royal Society University Research Fellow at Southampton University in the early 90's. He was awarded a personal chair in Combinatorial Chemistry at the age of 34 and in 1997 founded the Centre for Combinatorial Chemistry. In 2005 he moved to the University of Edinburgh. He has been elected to fellowships of both the Royal Society of Chemistry and the Royal Society of Edinburgh and his group has published over 300 peer-reviewed papers and filed more than 20 patents and is the co-founder of three still active University spinouts.
The current focus of his group is the application of the tools of chemistry to allow the manipulation, control and understanding of specific biological processes and functions and to address specific biomedical problems and needs with core expertise in the areas of fluorescent reporters, smart materials/polymers and in vivo chemistry.
He is director of the 50 strong EPSRC Interdisciplinary Research Collaboration Proteus ( proteus.ac.uk) that brings together, within a single location, clinicians, engineers, biologists, chemists, optical physicists. As part of this project the team has four compounds and two devices in first in-man clinical studies with phase II studies on-going in the area of bacterial infection and acute respiratory distress syndrome - with several more progressing through the design and regulatory process.
Perhaps most importantly, and what Mark is most proud of, is that more than 80 students have successfully completed their PhDs from his group.
Related Links

Mark Bradley's Webpage
University of Edinburgh

Mark Bradley Research Group Webpage
University of Edinburgh
External links will open in a new browser window