Jeremy Knowles Award 2011 Winner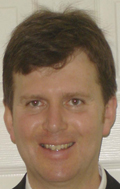 Christopher Schofield
Schofield Group
Awarded for his work on determining the structure and function of human oxygenases of chemical and biomedical importance.

About the Winner
Following doctoral research on new types of antibiotic and characterising the enzymes involved in the biosynthesis of the clinically important cephalosporin antibiotics (under the supervision of Jack E. Baldwin) Chris Schofield has established a research career focused on developing a chemical understanding of biological systems of medicinal importance. Much of his research has concerned mechanistic and structural studies on enzymes that are potential targets for medicinal chemistry or are involved in the biosynthesis of medicinally important compounds such as antibiotics.
The group has developed internationally recognised expertise in the area of non-haem oxygenases and in particular the 2-oxoglutarate (2OG) dependent enzymes. These enzymes are of physiological and medicinal importance and of intrinsic interest from a chemical perspective as they catalyse reactions, e.g. hydroxylation of an unactivated C-H bond, that are not presently accessible to synthetic chemistry. The group has carried out extensive mechanistic, inhibition, and functional studies, utilising a range of techniques including synthetic chemistry, biophysical and kinetic analyses.
A current focus is functional assignments of human oxygenases and the identification of new therapeutic targets. Studies on the role of oxygenases in metabolism have led to insights into genetic diseases and the assignment of the fat mass and obesity associated protein as a nucleic demethylase. This work placed the group in an excellent technical position to examine the possibility that 2OG oxygenases are involved in sensing roles in humans. Working with Peter Ratcliffe, a set of 2OG oxygenases that catalyse hypoxia inducible factor (HIF) prolyl hydroxylation were identified. Extensive structural and mechanistic studies on these enzymes have been carried out with highlights including the first crystal structures for human 2OG oxygenases including the most important enzyme in human oxygen sensing (PHD2).
This work has helped to create a platform for the molecular analysis of hypoxia responses - an activity that is now being pursued in academic laboratories worldwide. The work has also enabled major pharmaceutical companies to establish programmes aimed at modulating HIF hydroxylase activity for therapeutic benefit.
Related Links

Schofield Group
Oxford University, Chemistry Research Laboratory
External links will open in a new browser window