Jeremy Knowles Award 2012 Winner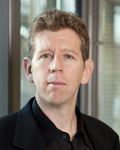 Professor Thomas Muir
Princeton University
For pioneering methods that allow polypeptides to be ligated through a normal peptide bond. These advances open up the world of proteins to the tools of organic chemistry by allowing the insertion of unnatural amino acids anywhere into proteins.
About the Winner
Tom Muir, Professor of Chemistry and Molecular Biology, Princeton University is an expert in protein engineering and its application to studying cellular signaling networks. His lab has developed a suite of chemistry-driven tools for studying the structure and function of proteins in the test tube and in live cells. In addition, his laboratory employs cutting edge methods in protein engineering (computational protein design and directed evolution), structural biology (NMR spectroscopy and x-ray crystallograghy) and informatics (co-variation analysis).
Dr. Muir received his B.S. in chemistry in 1989 and his Ph.D. in organic chemistry in 1993, both from the University of Edinburgh. After studying bioorganic chemistry as a postdoc and then as a senior research associate at The Scripps Research Institute, he joined The Rockefeller University in 1996 as assistant professor. He was named associate professor in 2000, professor in 2002 and Richard E. Salomon Family Professor in 2005. He was also director of the Pels Family Center for Biochemistry and Structural Biology at Rockefeller. In 2010 Professor Muir joined Princeton University where he is the Van Zandt Williams Jr. Class of '65 Professor of Chemistry and Professor of Molecular Biology.
Dr. Muir received the Blavatnik Award for Young Scientists and the Vincent du Vigneaud Award in 2008, the Irving Sigal Young Investigator Award in 2005, the Leonidas-Zervas Award in 2002 and a Burroughs Wellcome Fund New Investigator Award in 1999. He was deemed an Alfred P. Sloan Research Fellow in 1999 and a Pew Scholar in the Biomedical Sciences in 1997. Dr. Muir is a fellow of the American Association for the Advancement of Science.
Related Links

The Muir Lab
Professor Muir's Webpage
External links will open in a new browser window