Jeremy Knowles Award 2016 Winner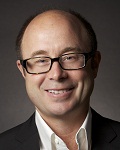 Dr Jeffery Kelly
The Scripps Research Institute
Awarded for delineating the mechanism of transthyretin aggregation causing neurodegeneration, and for the discovery of a drug that slows the underlying aetiology of a human amyloid disease
About the Winner
Dr Kelly received his Ph.D. in organic chemistry from the University of North Carolina at Chapel Hill (1986) and performed post-doctoral research at The Rockefeller University in the area of chemistry and biology. After rising through the ranks in the Chemistry Department at Texas A&M University, he joined the Department of Chemistry at The Scripps Research Institute in 1997 as the Lita Annenberg Hazen Professor of Chemistry. He served as Dean of Graduate Studies and Vice President of Academic Affairs from 2000-2006 and is currently Chair of Molecular and Experimental Medicine at The Scripps Research Institute. His research focuses on the physical basis of protein folding, misfolding and aggregation and the influence of small molecules on these processes in vivo.
Two small molecules discovered by the Kelly laboratory were successful in placebo-controlled human clinical trials for the amelioration of peripheral neuropathy caused by amyloidosis. These small molecules selectively bind to the native state of transthyretin and serve as native state kinetic stabilizers-allowing scrutiny of the hypothesis that prevention of amyloidogenesis will ameliorate a neurodegenerative disease. Another current focus of the Kelly group is to restore the protein homeostasis capacity that protects us from numerous diseases when we are young utilizing "proteostasis regulators", small molecules that adapt stress responsive signaling pathways to restore normal cellular balance.
Kelly has won numerous awards including the American Chemical Society Ralph F Hirschmann Award and the Arthur C Cope Scholar Award, The Peptide Society Vincent du Vigneaud Award and the Emil Thomas Kaiser Award, to name a few.
Related Links

Dr Kelly's Webpage
The Scripps Research Institute
External links will open in a new browser window