John Jeyes Award 2012 Winner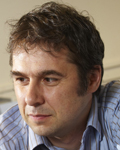 Professor Alastair Lewis
University of York
For his significant contributions to our understanding of the atmospheric chemistry, transport and impacts of organic compounds, enabled by his development of novel methods of chemical analysis.
About the Winner

Professor Alastair Lewis is currently the Director for Composition Research at the National Centre for Atmospheric Science, a Natural Environment Research Council (NERC) collaborative centre. He holds a chair in atmospheric science at the University of York and is the NERC Theme Leader for Technologies. His expertise is in analytical and atmospheric chemistry and in particular in developing new methods for the measurement of organic compounds in the environment. He has taken laboratory methods in to the field on many occasions over the years, from the tropics to the poles, the background ocean to urban centres.

He was awarded the Desty Memorial Prize for Innovation in Separation Science in 2001, a Philip Leverhulme Prize in Earth, Ocean and Atmospheric Science in 2004 and the RSC SAC Silver Medal in 2006. He has around 170 peer-reviewed publications and book chapters and was editor of the John Wiley textbook 'Multidimensional Chromatography'. His current research activities span from long term observations of atmospheric composition in the tropical Atlantic through to the laboratory development of lab-on-a-chip approaches to trace gas detection.

Although primarily an atmospheric chemist, he collaborates with commercial organisations to improve detection technologies in petrochemical, defence, food and fragrance industries.
Related Links

Professor Lewis's Webpage
University of York
External links will open in a new browser window