Joseph Chatt Award 2014 Winner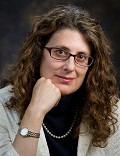 Dr Amy Rosenzweig
Northwestern University
For her contributions to the understanding of the function of metalloenzymes, in particular particulate methane monooxygenase, and insights into copper homeostasis.
About the Winner
Amy C. Rosenzweig obtained a B. A. in chemistry from Amherst College (1988) and a Ph. D. in inorganic chemistry from Massachusetts Institute of Technology (1994). After an NIH postdoctoral fellowship at Harvard Medical School, she joined the faculty of Northwestern in 1997 where she is currently the Weinberg Family Distinguished Professor of Life Sciences in the Departments of Molecular Biosciences and of Chemistry.
Her honors and awards include Elected Fellow of the American Association for the Advancement of Science (2007), the American Chemical Society Nobel Laureate Signature Award for Graduate Education (2006), Honorary Doctor of Science Degree from Amherst College (2005), MacArthur Fellow (2003), the Camille Dreyfus Teacher Scholar Award (2001), and David and Lucile Packard Fellow (1999).
She is an elected councilor of the Society for Biological Inorganic Chemistry (SBIC) and has served on the editorial boards of Inorganic Chemistry, Journal of Biological Inorganic Chemistry, and Journal of Inorganic Biochemistry.
Her research interests include biological methane oxidation and nitrification, metal uptake and transport, oxygen activation by metalloenzymes, and membrane metalloproteins.
Related Links

Dr Rosenzweig's Webpage
Northwestern University
External links will open in a new browser window