Khorana Prize 2014 Winner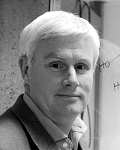 Professor Gideon Davies
University of York
For his seminal and lasting contributions to our understanding of carbohydrate enzymology, particularly in his pioneering work on conformational analysis of enzyme action.
About the Winner
Gideon Davies was born in Great Sutton, Cheshire. He was inspired to do science by his Chemistry and Biology teachers at Whitby Comprehensive School, Fiona German-Lloyd, Huw John and Jane Collins. He received his PhD from the University of Bristol in 1990 before undertaking postdoctoral positions in Hamburg and York.
In 1996 he was awarded a Royal Society University Research Fellowship to work on the structures and mechanisms of Carbohydrate-Active Enzymes at the University of York's renowned Structural Biology Laboratory. He was made a Professor of Chemistry in York in 2001.
Gideon's research spans the disciplines of Chemistry and Biology, with a focus on the structural enzymology and chemical biology of proteins involved in the synthesis and degradation of carbohydrates. He is perhaps best known for his work on the conformational analysis of carbohydrates.
Professor Davies' other awards include the 2010 Gabor Medal of the Royal Society, the 2010 GlaxoSmithKline award of the Biochemical Society and the Whistler Prize of International Carbohydrate Organisation. He was elected a member of the European Molecular Biology Organization and a Fellow of The Royal Society in 2010.
Related Links

Professor Davies' Webpage
University of York
External links will open in a new browser window