Longstaff Prize 2016 Winner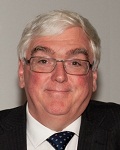 Professor Paul O'Brien
University of Manchester
Awarded for his work in the development of novel chemical methods for materials synthesis, especially chalcogenide containing thin films and quantum dots, shaping the international research field and establishing a highly successful spin out company
About the Winner
Paul O'Brien is Professor of Inorganic Materials in the University of Manchester; a joint appointment in the Schools of Materials and Chemistry. He was Research Dean in the Faculty of Science and Engineering (2000-2002), Head of the School of Materials (2011-2015) and Head of the School of Chemistry (2002-2009).
He is a Fellow of the Royal Society of Chemistry (former vice president) and Institute of Materials (C.Eng. since 2002). He is a fellow of the European Academy of Sciences (2012), the Royal Society (2013) and he Learned Society of Wales (2015). He is a Fellow of IUPAC and has received honorary degrees from The University of Zululand), Liverpool University, Universidade de Aveiro and QMUL London. His work has been recognised by the Platinum Medal of IoM3 (3013) and The Gold Medal of the Society of Dyers and Colourists (2015).
His work on Metallo Organic Chemical Vapour Deposition (MOCVD with Epichem (now SAFC) led to a number of processes widely used in deposition of advance semiconductors or oxides. A dominant and continuing theme has been the synthesis of well-defined nanodimensional particles and developing processes that obviate the need for the more hazardous chemicals and developing several new processes. This work has led to new routes to nanochalcogenides and to patents. Nanoco Ltd was established in 2001 as a vehicle for the scalable manufacture of nanodimensional material.
In terms of greater service he has worked widely in Africa. Paul led a project with UZULU from its inception and currently holds a £1.1 M grant RS/DFID grant for capacity building work in the Cameroon, Ghana and South Africa. He Was the BA Chemistry President (2004), a visiting Fellow at Magdalen College Oxford (2009) and a Distinguished Fellow at the Institute for Advanced Studies Durham (2011).
He was awarded a CBE in this year's New Year's Honours List for services to Science and Engineering.
Related Links

Professor O'Brien's Webpage
University of Manchester
External links will open in a new browser window