Longstaff Prize 2013 Winner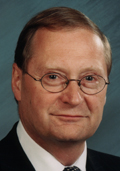 Professor Steven Ley
University of Cambridge
For his outstanding record in developing innovative solutions to advance the science of chemistry that have substantially contributed to this field on a global level.

About the Winner
Steve Ley has been the BP (1702) Professor of Chemistry at the University of Cambridge since 1992. He was a lecturer at Imperial College in 1975, promoted to Professor in 1983, and Head of Department in 1989. In 1990 he was elected to the Royal Society (London) and was President of the RSC from 2000-2002.
Also in 2002 he received public honours in the form of a CBE. He was elected to the Academy of Medical Sciences in 2005 and Fellow of the Society of Biology in 2009.
He is a foreign member of the Finnish Academy of Science Letters and of the Indian National Science Academy.
Related Links

Steven Ley Research Group
Professor Ley's Research Website
External links will open in a new browser window