Lord Lewis Prize 2010 Winner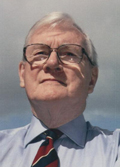 Sir John Cadogan CBE
Fusion Antibodies Ltd
Awarded in recognition of his distinguished research in organic chemistry and his wide-ranging, distinctive and significant contributions in industry and public service.
About the winner
John Cadogan served in academia as Purdie Professor in St Andrews and Forbes Professor at Edinburgh, in our leading wealth creating sector of industry (Oil and Chemicals) and in leading Governmental advisory and policy roles in research and defence. Now as founder and promoter of start up companies, he is chairman of Fusion Antibodies Ltd about to carry an antibody based cancer drug into clinical trials and was chairman of DNA Research Innovations Ltd which was acquired by the Invitrogen Corporation.
He was President of the Royal Society of Chemistry, a member of the SERC and chairman of its Science Board. While a member of the Royal commission on Criminal Justice he was responsible for introducing a change in the law which enabled the dramatic increase in application of DNA "fingerprinting", the greatest step forward in establishing guilt or innocence for 75 years. He is the inaugural President of the Learned Society of Wales.
He received the Meldola and Corday Morgan Medals, the Tilden and Pedler lectureships, the SCI's Society Medal and 20 Honorary Degrees and Fellowships. He has published some 350 papers and patents, the most recent this year.
Subsequently, as group Director of Research for the former British Petroleum Company he oversaw its in house research investment grow from $60 million to $400 million with a return of billions to the share holders.
As the first Director General of the Research Councils he prepared and made the case for the largest % increase in budget of any Government department at the first CSR. He also served as Chairman of the Defence Advisory Council, the Defence Nuclear Safety Committee and as Science Policy Advisor to the Science Foundation Ireland.
Related Links

Lord Lewis Prize Lecture: Science Advice and Policy Making
Watch the lecture on The Reaction. Professor Sir John Cadogan CBE FRS FRSE CChem HonFRSC gave his lecture From Pure Science to Profit
External links will open in a new browser window