2018 Main Group Chemistry Award Winner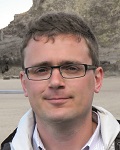 Professor Jose Goicoechea
University of Oxford
Awarded for outstanding and transformative developments in the fundamental and applied chemistry of the p-block elements, especially that of phosphorus and arsenic
About the Winner
Jose Goicoechea was born in Zaragoza (Spain) in 1976. He received his undergraduate degree from the University of Zaragoza and his Ph.D. from the University of Bath, the latter in 2003 under the supervision of Professor Michael Whittlesey. Between 2003 and 2006 he was a postdoctoral research assistant in the research group of Professor Slavi Sevov (University of Notre Dame) where he developed a passion for the chemistry of the p-block elements. In 2006 he was appointed University Lecturer at the University of Oxford and Fellow of Lady Margaret Hall. He has been at Oxford since then and was promoted to Full Professor in 2016.
Goicoechea's research is primarily focused on the chemistry of low oxidation state compounds of the main-group elements, p-block species exhibiting multiple bonds, and the organometallic chemistry of the transition metals. His interests range from purely fundamental studies (such as the synthesis of elusive molecules and reactive intermediates), to more applied fields (small molecule activation and catalysis). The common feature to all of this research is that it involves the synthesis of novel molecules and compounds.
To date, efforts in these areas have given rise to over 75 papers and articles. In 2014, Professor Goicoechea was awarded an ACS Organometallics Young Investigator Fellowship and elected as a "Rising Star" at the 41st International Conference on Coordination Chemistry.
Related Links

Professor Goicoechea's Webpage
University of Oxford

Goicoechea Group's Webpage
University of Oxford
External links will open in a new browser window