2018 Marlow Award Winner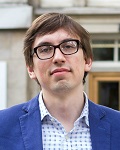 Dr Artem Bakulin
Imperial College London
Awarded for the development of optical time-resolved spectroscopic techniques to uncover structural and excited state electronic dynamics in organic optoelectronic materials and devices.
About the Winner
Dr Artem A. Bakulin is currently a Royal Society University Research Fellow in the Department of Chemistry, Imperial College London. His research focuses on the photophysics of organic optoelectronic materials and nanodevices. His group develops ultrafast laser spectroscopy techniques to observe and control molecular-scale dynamics in functional nanosystems, including thin-film solar cells, organic transistors and quantum-dot photodetectors.
Artem received his undergraduate degree from Lomonosov Moscow State University (2005) and his PhD from the University of Groningen (2009) working on infrared multidimensional spectroscopy of molecular interfaces. In 2010, he was awarded a Rubicon Fellowship from the Netherlands Organisation for Scientific Research (NWO) to join Prof. Sir Richard Friend's group at the University of Cambridge. In 2012, he was awarded an NWO Veni fellowship, which he carried out at the FOM Institute AMOLF, in Amsterdam. During these fellowships Artem developed a set of spectroscopic tools to better understand the electronic dynamics within nanodevices at working conditions. He returned to Cambridge in 2014 and then moved to Imperial College in 2016 as a Royal Society University Research Fellow and ERC Starting Grant holder.
Artem's prospective interests include the use of molecular vibrations to control electronic dynamics, charge-transport properties of proteins, ultrafast molecular switching, and time-resolved spectroscopy on the scale of single molecules.
Related Links

Dr Bakulin's Webpage
Imperial College London
External links will open in a new browser window