Merck Award 2016 Winner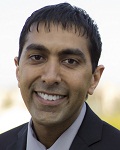 Professor Neil Garg
University of California, Los Angeles
Awarded for breakthroughs in synthetic methodology and exceptional achievements in natural product synthesis
About the Winner
Neil Garg received a BS in Chemistry from New York University where he did undergraduate research with Professor Marc Walters. During his undergraduate years, he spent several months in Strasbourg, France while conducting research with Professor Mir Wais Hosseini at Université Louis Pasteur as an NSF REU Fellow.
Garg obtained his PhD in 2005 from Caltech studying under the direction of Professor Brian Stoltz. He then joined Professor Larry Overman's laboratory at the University of California, Irvine as an NIH Postdoctoral Scholar. Garg joined the faculty at UCLA in 2007 and rose to the rank of Full Professor in 2013.
His laboratory develops synthetic strategies and methodologies that enable the synthesis of complex bioactive molecules. Garg's honors include the Merck Award, the Tetrahedron Young Investigator Award, an Arthur C Cope Scholar Award, a Dreyfus Teacher-Scholar Award, a Sloan Foundation Fellowship, the Thieme-Iupac Prize, and several awards from industrial sponsors.
Related Links

Professor Garg's Webpage
University of California, Los Angeles
External links will open in a new browser window