2018 Merck, Sharp & Dohme Award Winner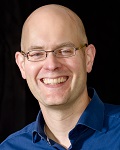 Professor Frank Glorius
Westfälische Wilhelms-Universität Münster
Awarded for pioneering contributions on the use of N-heterocyclic carbene ligands in selective arene hydrogenation
About the Winner
Frank Glorius was educated in chemistry at the Universität Hannover, Stanford University (Prof. Paul A. Wender), Max-Planck-Institut für Kohlenforschung and Universität Basel (Prof. Andreas Pfaltz), and Harvard University (Prof. David A. Evans). He began his independent research career at the Max-Planck-Institut für Kohlenforschung (Mentor: Prof. Alois Fürstner) in 2001 and was appointed Associate Prof. at the Philipps-Universität Marburg in 2004. Since 2007 he is a Full Professor of Organic Chemistry at the Westfälische Wilhelms-Universität Münster.
His research program focuses on the development of new concepts for catalysis and their implementation in organic synthesis. The group is especially interested in the chemistry of N-heterocyclic carbenes (NHCs), C-H activation, asymmetric arene hydrogenation, (asymmetric) NHC organocatalysis, photocatalysis, heterogeneous catalysis with common and with tailor-made, surface-modified nanoparticles and, the development of useful screening methodology.
This work was acknowledged by a couple of distinguished awards, such as the OMCOS award, the Leibniz award of the DFG (highest German research award), an ERC grant and the 2014, 2015, 2016 and 2017 Thomson Reuters/Clarivate Highly Cited Researcher acknowledgment. He is especially proud on the many successful students he has trained and mentored, which was in part acknowledged by a teaching award in 2014 ("Goldener Brendel") and an advisor award (IPMI Faculty Advisor Award) in 2017.
Related Links

Professor Glorius' Webpage
Westfälische Wilhelms-Universität Münster
External links will open in a new browser window