2018 Natural Product Award Winner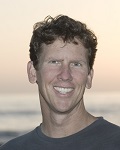 Professor Bradley Moore
University of California at San Diego
Awarded for pioneering discoveries in the chemical biology, biosynthesis, genomics and engineering of marine natural products.
About the Winner
Bradley Moore was born and raised in Hawaii where he first became enamoured of the ocean and its many extraordinary creatures. He was introduced to the fascinating chemistry of natural products as an undergraduate student at the University of Hawaii in the laboratory of his father, the late Richard Moore, and the rest is history. His PhD mentor Heinz Floss at the University of Washington instilled in him a curiosity for how nature assembles complex molecules from the simple building blocks of life. After completing his postdoc with biochemist John Robinson at the University of Zurich in 1995 and faculty positions at the University of Washington (1996-1999) and the University of Arizona (1999-2005), he moved to his current position as Professor at the University of California at San Diego where he holds joint appointments at the Scripps Institution of Oceanography and the Skaggs School of Pharmacy and Pharmaceutical Sciences.
Dr. Moore's independent research interests have always focused on natural products from marine microbes, involving the discovery, characterization, and application of biosynthetic enzymes, secondary metabolic pathways, microbial genomes, and natural product molecules for their biomedical and biotechnological potential. He has published over 200 peer-reviewed articles and trained over 75 students and postdoctoral fellows during the past two decades. Dr. Moore is a Fellow of the Royal Society of Chemistry and the American Academy of Microbiology, Chair of the Natural Product Reports Editorial Board, former President of the American Society for Pharmacognosy, Director of the Scripps Center for Oceans and Human Health, and the recipient of the 2013 Arthur C. Cope Scholar prize from the ACS.
Related Links

Professor Moore's Webpage
University of California at San Diego
External links will open in a new browser window