Norman Heatley Award 2012 Winner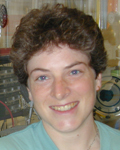 Dr Judy Hirst
The Medical Research Council Mitochondrial Biology Unit, Cambridge
For her work as one of the leading international experts on the chemistry of mitochondrial electron transport enzymes.
About the Winner
Judy Hirst is a research group leader at The Medical Research Council Mitochondrial Biology Unit in Cambridge, and a Fellow of Corpus Christi College in chemistry.

She studied chemistry at the University of Oxford and obtained her D. Phil. there with Fraser Armstrong in 1997 for work on coupled electron transfer reactions in complex enzymes. She then carried out postdoctoral research with David Goodin at The Scripps Research Institute in La Jolla, California, as a Wellcome Trust Postdoctoral Fellow. She moved to her present position in Cambridge in 1999.

Her research applies chemical principles to understand mechanisms of energy conversion in complex biological systems that are relevant to both medicine and emerging energy technologies. In particular, how does mitochondrial complex I, one of the largest and most complicated enzymes in the cell, convert redox potential energy into a proton-motive force, and how can clinically-relevant complex I dysfunctions be characterised and understood on a molecular level?

She has previously won an EMBO Young Investigator Award (2001), and the Young Investigator Award from the Royal Society of Chemistry Inorganic Biochemistry Discussion Group (2006).
Related Links

Dr Hirst's Webpage
MRC Mitochondrial Biology Laboratory
External links will open in a new browser window