Organic Stereochemistry Award 2017 Winner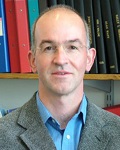 Professor Nicholas Turner
The University of Manchester
Awarded for the development of a broad range of chemo-enzymatic methods for the synthesis of stereochemically defined target molecules
About the Winner
Nicholas Turner obtained his DPhil in 1985 with Professor Sir Jack Baldwin and from 1985-1987 was a Royal Society Junior Research Fellow, spending time at Harvard University with Professor George Whitesides. He was appointed lecturer in 1987 at Exeter University and moved to Edinburgh in 1995, initially as a Reader and subsequently Professor in 1998. In October 2004 he joined Manchester University as Professor of Chemical Biology where his research group is located in the Manchester Institute of Biotechnology Biocentre. He is Director of the Centre of Excellence in Biocatalysis (CoEBio3) and a Co-Director of SYNBIOCHEM, the BBSRC Synthetic Biology Research Centre. He is also a co-founder of the biotechnology company Ingenza.
He is a member of the Editorial Board of ChemCatChem and the Advisory Board of Advanced Synthesis and Catalysis as well as Catalysis Science and Technology. His research interests are in the area of biocatalysis with particular emphasis on the discovery and development of novel enzyme catalysed reactions for applications in organic synthesis. His group are particularly interested in the application of directed evolution technologies for the development of biocatalysts with tailored functions.
Previous awards include; 1992 RSC Medal for Carbohydrate Chemistry; 1995 Pfizer Academic Award for Organic Chemistry; 1996 RSC Corday-Morgan Medal and Prize; 2004 International Biocat Award; 2007 AZ/GSK/Pfizer UK Prize for Process Chemistry Research; 2009 RSC Industrial Organic Award; 2011 Royal Society Wolfson Research Merit Award; 2015 University of Manchester Researcher of the Year Award; 2016-21 ERC Advanced Grant.
Related Links

Professor Turner's Webpage
The University of Manchester
External links will open in a new browser window