Pedler Award 2010 Winner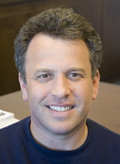 Jonathan Ellman
Yale University
Awarded for his pioneering achievements in organic synthesis including catalytic asymmetric synthesis, solid phase methodology and selective C-H bond activation.

About the Winner
Jonathan Ellman received his B.S. degree from MIT, earned his Ph.D. degree with Professor David Evans at Harvard University in 1989, and carried out postdoctoral research with Professor Peter Schultz at the University of California at Berkeley.
In 1992 he joined the faculty in the Department of Chemistry at the University of California at Berkeley and in 1999 was promoted to full Professor. At the same time he was appointed as a Professor in the Department of Cellular and Molecular Pharmacology at the University of California at San Francisco.
This summer he relocated to Yale University as a Professor in the Department of Chemistry. His laboratory is focused on the development of new synthesis methods in particular for asymmetric amine synthesis and C-H bond functionalization chemistry. He is also engaged in the development and application of chemical tools to study enzymes.
He is a fellow of the American Association for the Advancement of Science (2006) and has received a number of awards, including the 2010 GlaxoSmithKline Scholar Award, the Tetrahedron Young Investigator Award for Bioorganic and Medicinal Chemistry (2006), the Society of Biomolecular Screening Achievement Award (2003), the Scheele Award selected by the Swedish Academy of Pharmaceutical Sciences (2003), and an American Chemical Society Cope Scholar Award (2000).
He is on the editorial advisory boards of a number of journals, including the Board of Editors of Organic Syntheses, and the advisory boards for Chemistry & Biology and Organic & Biomolecular Chemistry.
Related Links

Yale University, Department of Chemistry
Jonathan Ellman's Homepage
External links will open in a new browser window