Perkin Prize for Organic Chemistry 2009 winner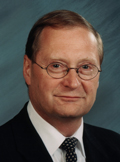 Steven Ley
University of Cambridge
Awarded for his outstanding creative work and innovative solutions in the art of organic synthesis.
About the winner
Steve Ley has been the BP (1702) Professor of Chemistry at the University of Cambridge since 1992. He was a lecturer at Imperial College in 1975, promoted to Professor in 1983, and Head of Department in 1989. In 1990 he was elected to the Royal Society (London) and was President of the RSC from 2000-2002.
Professor Ley has published over 660 papers and has gained numerous major awards including the Paul Janssen Prize for Creativity in Organic Synthesis and the Glaxo-Wellcome Award for Outstanding Achievement in Organic Chemistry.
More recent accolades include:
The Royal Society Davy Medal
the German Chemical Society August-Wilhelm-von Hofmann Medal
the Pfizer Award for Innovative Science
the ACS Ernest Guenther Award in the Chemistry of Natural Products
the Chemical Industries Association Innovation of the Year Award and the iAc Award; both jointly with AstraZeneca, Avecia and Syngenta
2004 - the Messel Medal Lecture of the SCI
2005 - Yamada-Koga Prize
2006 - the Nagoya Gold Medal (Banyu Life Science Foundation International, Japan)
2007 - the Robert Robinson Award and Medal (RSC)
the SCI Innovation Award
the Award for Creative Work in Synthetic Organic Chemistry (ACS)
the Karrer Gold Medal, University of Zurich.
In 2008 he gained the Hans Herloff Inhoffen Medal (Germany), the Prous Institute-Overton and Meyer Award (European Federation of Medicinal Chemistry) and the High Throughput Drug Discovery Methodologies Award (The Royal Society of Chemistry).
Related Links

The Ley Group homepage
Department of Chemistry at University of Cambridge
External links will open in a new browser window