2018 Peter Day Award Winner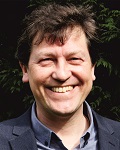 Professor Peter Skabara
School of Chemistry, University of Glasgow
Awarded for the synthesis of novel organic semiconductors, especially monodisperse macromolecules for photonic applications.
About the Winner
Pete Skabara graduated from Queen Mary and Westfield College, University of London, in 1991 with a First Class Honours degree in Chemistry. He completed his PhD studies in 1994 under the supervision of Professor Martin Bryce at the University of Durham before taking up a Max-Planck Fellowship with Professor Klaus Müllen at the MPI for Polymer Research in Mainz (1994-95). His academic career began at Sheffield Hallam University in 1995, and he moved to the University of Manchester (Senior Lectureship 2000-05), before joining the University of Strathclyde where he was the James Young Chair of Chemistry and Head of Department (2010-13). In 2018 he moved from Strathclyde to his present position as the Ramsay Chair of Chemistry at the University of Glasgow.
His research interests are generally in the field of organic semiconductors, which spans electronic and photonic devices and sensors, with an emphasis on synthesis and bulk properties, which are in turn driven by careful design and control of molecular architecture. His work on monodisperse, star-shaped conjugated macromolecules gained him a Royal Society Wolfson Research Merit Award. He has also held a Leverhulme Trust Fellowship and is currently a Leverhulme/Royal Society Africa Award holder.
Pete joined the Editorial Board of the Journal of Materials Chemistry in 2011 and has been the Chair of the Journal of Materials Chemistry C since its launch in 2013. He is the next Chair of the ICSM biennial meeting, the premier roving meeting for organic and hybrid semiconductor device research, which is being held in the UK for the first time in Glasgow in 2020.
Related Links

Professor Skabara's Webpage
University of Glasgow
External links will open in a new browser window