Physical Organic Chemistry Award Winner 2011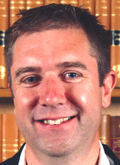 Christopher Hunter
University of Sheffield
Awarded for his contributions of molecular recognition and related weak interactions, exemplified through innovative models to explain solvation, aromatic interactions and secondary structure in DNA.

About the Winner
Chris Hunter was born in New Zealand in 1965. He grew up in Northern Ireland and was educated at the University of Cambridge, graduating with a PhD in 1989. He was a lecturer at the University of Otago from 1989 till 1991, when he moved to the University of Sheffield. He was promoted to a personal chair in 1997, and elected a Fellow of the Royal Society in 2008. He has been a Lister Institute Research Fellow and EPSRC Senior Research Fellow and is currently Professor of Chemistry at the University of Sheffield.
He has research interests in various aspects of molecular recognition: design, synthesis, measurement and theory. The aim of his research is to unravel and dissect the fundamental forces governing the complex process of molecular interaction in chemistry, materials science and biology.
The approach is to use simple models to design and study new experimental systems that directly probe the validity of the theory. He has built a quantitative understanding of some key aspects of molecular recognition in solution and applied the general principles derived from chemical systems to understand the behaviour and functional properties of more complex biological systems.