Robert Robinson Award 2010 Winner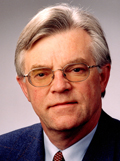 Dieter Enders
RWTH-Aachen
Awarded for his many landmark contributions to the development and practice of modern asymmetric organic synthesis.


About the Winner
Born in 1946 in Butzbach (Germany), Dieter Enders completed his PhD at the Justus-Liebig-Universität Gießen in 1974 under the supervision of Professor D. Seebach.
After postdoctoral studies at Harvard University with Professor E. J. Corey, he returned to Gießen and obtained his habilitation there in 1979. He became associate professor at the University of Bonn in 1980, and moved to his present position as Professor of Organic Chemistry at the RWTH Aachen University in 1985. At the universities in Lyon (France) and Melbourne (Australia) he held visiting professorships.
His awards and honours include the Prize of the Justus Liebig Universität Giessen (1978), the Leibniz Award (Deutsche Forschungsgemeinschaft, 1993), the Yamada Prize (Japan, 1995), the Max-Planck Research Award (Alexander von Humboldt-Stiftung and Max-Planck-Gesellschaft, 2000), the Emil Fischer Medal (Gesellschaft Deutscher Chemiker, 2002) and the Arthur C. Scope Scholar Award (ACS, 2008).
Since 2007 he is a member of the German Academy of Sciences Leopoldina and since 2008 senator of the German Research Foundation.
His current research interests are the development of new synthetic methods, the asymmetric synthesis of biologically active compounds, asymmetric catalysis with nucleophilic carbenes and organocatalysis in general. He has published over 480 papers.

Related Links

RWTH Aachen University
Dieter Enders Homepage
External links will open in a new browser window