2019 Schools Education Award Winner
Dr Niki Kaiser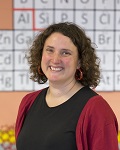 Notre Dame High School, Norwich
Awarded for outstanding commitment to the incorporation and dissemination of research informed teaching approaches.
About the Winner
Niki Kaiser is a teacher and Research Lead, teaching Chemistry to students aged 11-18 and supporting teachers to embed educational research in the classroom. Prior to becoming a teacher, she carried out post-doctoral research in Marine Biogeochemistry at Plymouth Marine Laboratory, having completed a PhD in Atmospheric Chemistry at the University of Leeds.

Niki combines her interest in research with her love for teaching, helping both students and teachers in a number of ways. She started a Science Journal Club for students, and founded an Educational Research Journal Club for colleagues. She was a member of the expert advisory panel for the Education Endowment Foundation's Improving Secondary Science report, and she was recently awarded a teacher-researcher fellowship from the RSC's Chemical Education Research Group.

Niki mentors school leaders in Norwich to help them integrate and evaluate research-informed practice, and she co-ordinates the Norwich Research Leads Network. She also helped to form #CogSciSci, a peer-support network with over 700 members, which shares ideas for applying Cognitive Science to Science teaching.
Niki serves on the RSC's Education Division Council, and chairs the RSC's 11-19 Curriculum and Assessment Working Group. She has published research papers on Atmospheric Chemistry and Marine Biogeochemistry, and writes regularly for educational media about chemistry, teaching and educational research. Niki grew up in a family of musicians, and never expected to become a Chemist. But she still plays the flute and piano for pleasure, and enjoys running and swimming in her spare time.

Related Links

Niki Kaiser's Webpage
Notre Dame High School, Norwich
External links will open in a new browser window