2018 Sir Derek Barton Gold Medal Winner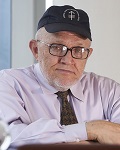 Professor Samuel Danishefsky
Memorial Sloan Kettering Cancer Center, Columbia University
Awarded for wide ranging contributions to the art of complex natural product synthesis, the development of new synthetic methods, the elaboration of synthetic vaccines for cancer treatment, and the expansion of the concept of natural ligation of proteins.
About the Winner
Samuel Danishefsky completed his BS at Yeshiva University in 1956 and his PhD at Harvard University with Peter Yates. Following postdoctoral studies at Columbia University with Gilbert Stork, he began his independent academic career in 1963 at the University of Pittsburgh, where he became Professor in 1971. In 1980, he moved to Yale University, but returned to New York in 1993 as Professor of Chemistry at Columbia University and Kettering Professor at the Memorial Sloan-Kettering Cancer Center.
His research interests include synthetic strategy, reagent development, cytotoxic natural products, and fully synthetic carbohydrate-based tumor antigens. Over the course of his career, Professor Danishefsky has received numerous honors, including the Wolf Prize in Chemistry (1996), the ACS Cope Medal (1998), the H. C. Brown Award (2000), the Benjamin Franklin Award (2006), the NAS Award in the Chemical Sciences (2006), the ACS Roger Adams Award in Organic Chemistry, and the American Association for Cancer Research, Inaugural Award for Chemistry in Cancer Research (2007). He has been a member of the National Academy of Sciences since 1986.
Related Links

Professor Danishefsky's Webpage
Columbia University
External links will open in a new browser window