Sir George Stokes Award 2011 Winner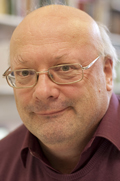 Richard Compton
University of Oxford
Awarded for his work in translating original and fundamental insights in interfacial charge transfer mechanisms and their kinetics into innovative and robust analytical sensing protocols. His work has revolutionised the field of electroanalysis.

About the Winner
Professor Richard Compton holds the position of Aldrichian Praelector at Oxford University and is Tutor in Chemistry at St.John's College. Compton has published over 1000 papers in the fields of electro-chemical and electro-analytical science and has an h-index of 61.
He is the Founding Editor and Editor-in-Chief of the journal Electrochemistry Communications (Impact Factor >4.2) and co-author of the best-selling graduate textbook Understanding Voltammetry (with C E Banks; 2nd edition published December 2010, Imperial College Press). He has recently co-authored A G Stromberg - First Class Scientist, Second Class Citizen. Letters from the GULAG and a History of Electroanalysis in the USSR (with G G Wildgoose, E G Zakharova, A S Kabakaev and M T Stawpert, Imperial College Press, 2011).
He holds Honorary Doctorates from Kharkov National University (Ukraine) and the Estonian Agricultural University and is a Lifelong Honorary Professor of Sichuan University (Chengdu, PRC).
Related Links

The Compton Group
University of Oxford, Department of Chemistry
External links will open in a new browser window