2018 Soft Matter and Biophysical Chemistry Award Winner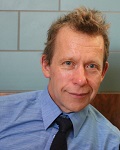 Professor Nicholas Kotov
University of Michigan
Awarded for foundational studies on chiral inorganic nanomaterials and chirality transfer between different forms of matter.
About the Winner
The fundamental contributions of Prof. Nicholas A. Kotov to Soft Matter and Biophysical Chemistry include the development of theory and practice of biomimetic nanostructures represented by chiral inorganic nanomaterials. Kotov recognized that inorganic nanoparticles are structural mimics of globular proteins. This concept led Kotov to the experimental realization of chiral nanoscale assemblies from nanoparticles that were previously viewed as achiral. He showed that they spontaneously assemble into helical superstructures with stunningly high enantioselectivity similar to DNA, collagen, amyloids, and other iconic examples of biological soft matter.
Kotov's fundamental studies on chiral inorganic nanostructures identified the thermodynamic preference of nanoparticles to self-assemble with those of the same handedness as the key mechanism driving the enantioselectivity of chiral assemblies of nanocolloids. Kotov showed that asymmetry of interparticle interactions from semiconducting, metalic, ceramic, and carbonaceous materials can be transferred from the Ångström scale to nano-, meso-, and microscale. Photoinduced reactions on nanoparticle surfaces engendered highly efficient chirality transfer from photons to nanoscale matter. This finding has direct implications for the origin of homochiral life on Earth due to circularly polarized light emission from early stars.
In collaboration with colleagues from Jiangnan University, the unusually high amplitude of chiroptical activity observed for chiral assemblies of plasmonic nanoparticles was translated to practice as chiroplasmonic biosensors. Biomimetic nanocomposites incorporating self-assembled nanostructures changed opened the path to use soft matter in photonics.
Related Links

Professor Kotov's Webpage
University of Michigan
External links will open in a new browser window