2018 Surfaces and Interfaces Award Winner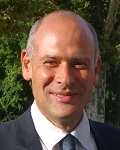 Professor Paolo Samorý
University of Strasbourg & CNRS
Awarded for the application of supramolecular approaches to create multicomponent materials and multifunctional devices.
About the Winner
Paolo Samorý is Distinguished Professor at the University of Strasbourg (France). He is also Director of the "Institut de Science et d'IngÚnierie SupramolÚculaires" (ISIS) and of the Nanochemistry Laboratory. Paolo's research has been centred on supramolecular self-assembly at surfaces and interfaces. His contributions led to the foundation of the transition from supramolecules to suprafunctions and to the development of new multifunctional nanomaterials for organic optoelectronics, sensing and energy applications. In order to attain a full control over the nanostructuration of functional surfaces and interfaces, Paolo has made extensive use of scanning probe microscopies beyond imaging in order to unravel the correlation between structure and function with a nanoscale resolution. Such a knowledge was vital towards the optimization of interfaces and active materials for high-performance devices. In particular, by decorating interfaces in multicomponent devices, he pioneered the fabrication of multifunctional optoelectronic devices that can respond to independent stimuli.
Prof. Samorý is Fellow of the Royal Society of Chemistry (FRSC), Fellow of the European Academy of Sciences (EURASC), Member of the Academia Europaea and Junior Member of the Institut Universitaire de France (IUF). His work has been awarded various prizes, including the E-MRS and MRS Young Scientist Awards (1998 and 2000), the IUPAC Prize for Young Chemists (2001), the ERC Starting Grant (2010), the CNRS Silver Medal (2012), the Spanish-French "Catalßn-Sabatier" Prize (2017) and the German-French "Georg Wittig - Victor Grignard" Prize (2017).
He is Associate Editor of Nanoscale (RSC) and Member of the Advisory Boards of Advanced Materials, Small, ChemPhysChem and ChemPlusChem (Wiley-VCH), Chemical Society Reviews, Chemical Communications and Journal of Materials Chemistry (RSC), ACS Nano and ACS Omega (ACS). He participated as Coordinator or Principal Investigator in several EU projects and training networks, such as the MSCA ITN "iSwitch" and the Graphene Flagship.
Related Links

Professor Samorý's Webpage
University of Strasbourg & CNRS
External links will open in a new browser window