2018 Sustainable Water Award Winner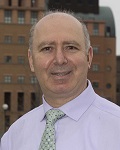 Professor Dionysios Dionysiou
University of Cincinnati
Awarded for the development and application of advanced oxidation processes in sustainable water supply.
About the Winner
Professor Dionysiou was born on the Island of Cyprus. He is currently a UNESCO co-Chair Professor on "Water Access and Sustainability" and a Herman Schneider Professor of Environmental Engineering at the University of Cincinnati (UC). He teaches courses on water quality, treatment and reuse, advanced unit operations for water treatment, advanced oxidation technologies (AOPs), and physical-chemical processes for water quality control. His research interests include (i) physical chemical processes for treatment of surface water, groundwater, and industrial wastewater, (ii) AOPs, (iii) development of advanced functional materials, (iv) treatment of contaminants of emerging concern (i.e., pharmaceuticals and personal care products, biotoxins, heavy metals), (v) remediation of Harmful Algal Blooms/cyanotoxins, (vi) environmental nanotechnology and nanosensing, and (vii) water sustainability.
Dr. Dionysiou is the author or co-author of over 360 refereed journal publications and 140 conference proceedings, book chapters, and editorials. He has also edited several books. He is passionate about service to the field of environmental engineering and science in general and water quality in particular. He has provided service as editor, associate editor or member of the editorial board of more than 10 scientific journals. He served as committee chair or member for various functions in many professional societies.
Dr. Dionysiou is fellow of the European Academy of Sciences, fellow of the Royal Society of Chemistry (RSC), fellow of the American Chemical Society (ACS), and recipient of several professional awards. Dr. Dionysiou has been featured in several international symposia, professional meetings, news media, and scientific publications. He has trained over 120 graduate and undergraduate students, postdoctoral associates, and visiting scholars in his laboratories.
Related Links

Professor Dionysiou's Webpage
University of Cincinnati
External links will open in a new browser window