Teamwork in Innovation Award 2016 Winner
GlaxoSmithKline & University of Edinburgh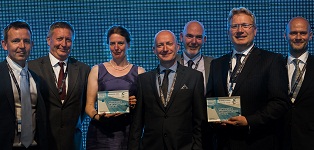 (L to R) John Liddle (GSK), Duncan Holmes (GSK), Ann Walker (GSK), Scott Webster (UoE), Chris Mowat (UoE), Damian Mole (UoE) and Jon Hutchinson (GSK)
The award was given is in recognition of the innovative science completed by GlaxoSmithKline (GSK) and The University of Edinburgh scientists. The teams have been working together in a truly collaborative industry-academia drug discovery partnership to discover medicines to treat acute pancreatitis.
Team Description
Led by John Liddle, Discovery Partnerships Leader, GlaxoSmithKline, and Damian Mole, Clinical Senior Lecturer and Honorary Consultant Surgeon, University of Edinburgh, both parties have been operating as a single integrated team since 2011. With co-investigator Scott Webster, the Edinburgh group brings a deep understanding of the disease biology, pathway biochemistry and structural biology of the target. This is combined with GSK's drug discovery expertise, particularly assay development and pharmacology, led by Iain Uings, Lead Biologist and Discovery Partnerships Leader, together with synthetic, computational and medicinal chemistry.
About the company
GlaxoSmithKline is a science-led global healthcare company that researches and develops a range of innovative products in Pharmaceuticals, Vaccines and Consumer Healthcare.
The University of Edinburgh College of Medicine and Veterinary Medicine is internationally renowned and was ranked in the top 5 in the UK by its UK REF2014 results.
Related Links
External links will open in a new browser window