2019 Industry-Academia Collaboration Award Winner
SCG-Oxford Centre of Excellence in Chemistry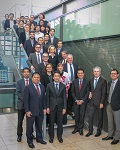 Awarded for creating a unique and long-standing collaboration bringing benefits to chemical science.
About the Project
The SCG-Oxford Centre of Excellence for Chemistry (CoE) is a unique collaboration between Siam Cement Group (SCG) - one of Thailand's biggest companies - and Oxford's Department of Chemistry. The CoE focuses on research and development in the field of Nanomaterials - such as the production of very high surface compounds for applications in packaging, and catalysis - such as the synthesis and characterisation of organometallic molecules for olefin polymerisation. Its main objective is to act as a hub for academic/industry collaboration and deliver new innovation to SCG and impact for Oxford research.
Established in 2012, the CoE's Co-Directors are Oxford's Professor Dermot O'Hare and SCG's Dr Suracha Udomsak. The team at Oxford currently includes a further thirty-seven people, including fourteen professors, one deputy director, three early career fellows, ten PDRAs, six PhD students, one administrator and two visiting researchers, who all contribute to the success of the collaboration. A further 25 people at SCG, from the President to lawyers and industrial researchers are directly involved in producing academic and industrial relevant chemistry. Through this unique link, 63 research projects have been funded and four Oxford-developed technologies have been licensed to SCG for further development, amounting to over £14million of investment. CoE projects have resulted in 62 publications in international peer reviewed journals, while In 2016/17, 10% of all the new patent filings arising from Oxford University originated from the CoE.
The CoE is now regarded as SCG's flagship externally funded research centre.

Related Links

Oxford Centre Webpage
Institution

SCG COE Webpage
SCG-Oxford Centre of Excellence in Chemistry
External links will open in a new browser window