Tilden Prize 2014 Winner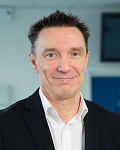 Professor Andrew Cooper

University of Liverpool
For his contribution to the study of porous organic cages.
About the Winner
Andy Cooper is a Nottingham graduate (1991), also obtaining his Ph.D there in 1994. After his Ph.D, he held a 1851 Fellowship and a Royal Society NATO Fellowship at the University of North Carolina at Chapel Hill, USA, and then a Ramsay Memorial Research Fellowship at the Melville Laboratory for Polymer Synthesis in Cambridge. In 1999, he was appointed as a Royal Society University Research Fellowship in Liverpool. He is the founding Director of the Centre for Materials Discovery, established in 2007, and was Head of Chemistry and then the first Head of the School of Physical Sciences in the period 2007-2009.
His research interests are polymeric materials, porous organic cages, supramolecular chemistry, supercritical fluids, colloids, and materials for energy production and storage. He also has a strong technical interest in high-throughput materials discovery methods.
He has been awarded the Macro Group Young Researchers Award (2002), the RSC Award in Environmentally Friendly Polymers (2005), the McBain Medal (2007), the Corday-Morgan Prize (2009), the Macro Group Award (2010), and a Royal Society Wolfson Research Merit Award. In 2011, he was named in a Thomson Reuters list as one of the Top 100 materials scientists of the last decade, one of eight UK scientists so listed.
Related Links

Professor Cooper's Webpage
University of Liverpool
External links will open in a new browser window